On Tuesday the media was once again celebrating a ho-hum "rebound" in the housing market.
In another sign of a turnaround in the long-battered real estate market, average home prices rebounded in July to the same level as they were nine years ago.

The July reading matched levels last seen in summer 2003, when the market was rising toward its peak in 2006. The collapse of the market after that led to the financial crisis of 2008.
Unsaid--but implied--was that things are improving. At first glance the article would suggest that this is the best the housing market has been in nine years, and we're on a course "
last seen... when the market was rising toward its peak
."
Of course the reality is simply that the media is once again hyping a non-existent recovery. The news
isn't
that the housing market is doing well or recovering but rather that the media is trying to spin generally bad data into good news just weeks ahead of a presidential election.
The article
doesn't
suggest the housing market is better than it's been in a nine years. It's saying that we're back where we were almost a decade ago.
In other words, the media is celebrating a
lost decade
in housing.
Charting the data gives us a better idea of the data being portrayed as good news: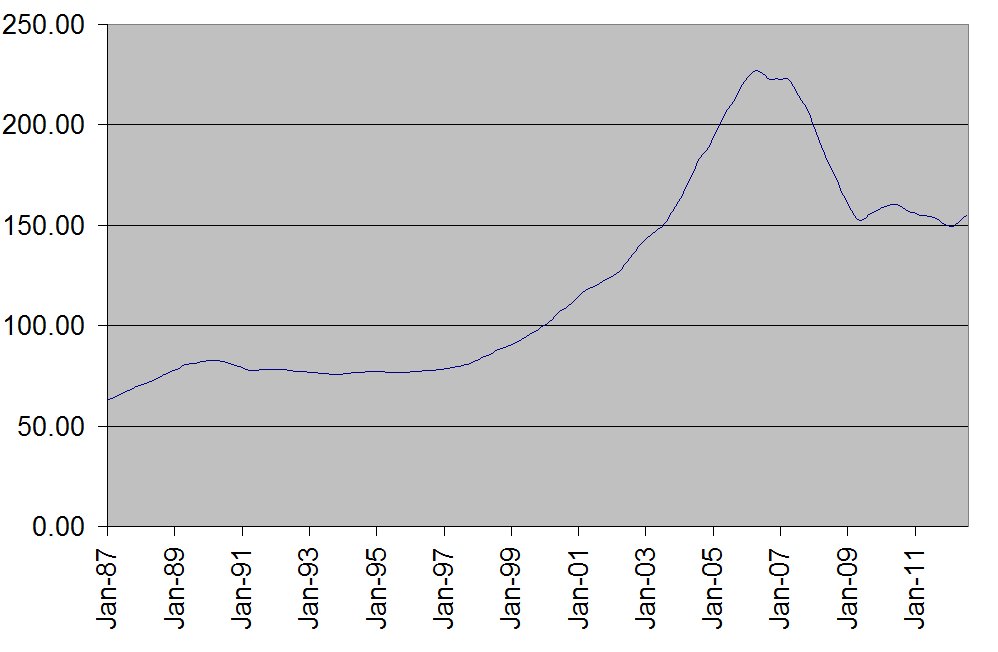 The chart above isn't reflective of data that's worth celebrating.
In fact, it's
unfortunate
that we're still where we were in 2003. Because in August 2009 prices "recovered" to these same 2003 levels--only to peak in 2010 and drop back down. The only reason we're back at 2003 levels today is because the supposed housing "recovery" faltered in summer of 2010 and prices dropped to hit new lows that we hadn't seen
since
2003.
Another problem with celebrating this data is that it's unlikely housing prices are going to go up quickly from here. It would appear that we're now at approximately the long-term housing trend-line.

That means we shouldn't expect any significant growth in housing prices beyond historic norms--which further means that those homeowners that are stuck with mortgages larger than the value of their homes shouldn't expect that to change for quite some time. Even if housing prices grow at their historical pace, it will take many, many years for prices to reach their 2006 highs and get homeowners above water.
We're pretty much just bumping along the bottom, and we've been doing that for the last three years under the bad policies of the Obama Administration and the Federal Reserve. We've lost a decade in the housing market. And the housing "recovery" hasn't made any progress since the recession technically ended. And with a huge over-supply of houses that still need to be foreclosed and dumped on the market, it's unlikely prices will rise significantly any time soon.
Far from good news, this illustrates just how little we've "recovered" and how far we have to go.